IMPACT OF UNFAVORABLE FAMILY, SOCIAL AND ETHNIC CONDITIONS ON CHILDRENS' RIGHT AND HEALTH
Abstract
Introduction: Health care in the Republic of Serbia, in accordance with legal regulations, is organized as a "comprehensive activity of society with the basic goal of achieving the highest possible level of preserving the health of citizens."
Aim of the paper: The aim of the research is to point out the need for improvement of familiar, social and ethnic circumstances in which the child grows up.
Methodology: The sample consisted of 104 parents of child patients and 69 health workers and associates who work with children at the KBC "Dr Dragisa Misovic-Dedinje". The SPSS (Statistical Package for Social Sciences) program version 14.0 was used in data processing. Measures of descriptive statistics, frequencies and percentages were used.
Results: In a large percentage,  82.6% of health care professionals answered that unfavorable family, social and ethnic circumstances negatively affect  childrens' right and health, 4.3% are not sure, and 13% answered that such opportunities have no impact . The obtained results indicate that 62.5% of parents believe that unfavorable familliar, social and ethical circumstances affect  childrens' right and health, 11.5% of parents believe that these unfavorable opportunities do not affect the rights of children in health care, while 26 .0% of parents are unsure.
Conclusion: Health professionals and parents perceive unfavorable familiar, social and ethnic circumstances as an obstacle to the realization of children's rights and adequate health care for children.
References
Golić-Ružić M. (Ur.), Dete u sistemu zdravstvene zaštite. Beograd: Centar za prava deteta; 2017.
UNICEF, (2018). Jačanje porodica iz osetljivih grupa, Pogled na mogućnosti. Beograd: UNICEF
WHO, (2015). Children's rights in primary health care Volume 2. Assessment and improvement Tool for Children aged 6-11. Denmark, Copenhagen: World Health Organization, Regional Office for Europe
Беляев, И., А. (2014). Здоровье человека как целостного природно-социально-духовного существа. Вестник огу, 7(168), 86-92.
Mićović, P., Mićović, I. (2013). Zdravstveni sistem. Beograd: Evropski centar za mir i razvoj
Zakon o zdravstvenoj zaštiti, Službeni glasnik RS, br. 25/2019.
Streuli, J.C., Michel, M., Vayena, E. (2011). Children's rights in pediatrics. European Journal of Pediatrics, 170(1), 9–14
Milošević, J. Uloga i značaj zdravstvenih saradnika u ostvarivanju prava dece na zdravstvenu zaštitu. Doktorska disertacija. Beograd, 2019
Bogdanović, R., Lozanović, D., Pejović-Milovančević, M., Sokal-Jovanović, Lj. (2016). The Child Health Care System of Serbia. The Journal of Pediatrics, 177(S), 156-172
Republički zavod za socijalnu zaštitu. (2018). Izveštaj o radu Centara za socijalni rad za 2017. godinu. Beograd: Republički zavod za socijalnu zaštitu.
Institut za javno zdravlje Srbije (2018). Zdravstveno-statistički godišnjak Rebuplike Srbije 2017. Beograd: Institut za javno zdravlje Srbije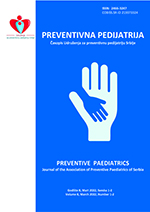 Downloads
Section
Original Articles