COVID 19 PNEUMONIA AND IMMUNODEFICIENCY IN AN ADOLESCENT
Abstract
Covid 19 infection in children in most cases is asymptomatic or children develop a milder disease. Most evidence suggests that children have a lower incidence of severe acute respiratory syndrome due to coronavirus 2 infections (SARS-CoV-2). We represent a case report of COVID-19 infection in a previously healthy, 17-year-old girl, with pneumonia, fever over 38c and hypoxia. Obesity was a risk factor for the more severe clinical course in this case. Due to the prolonged elevated temperature, hyposaturation and consequently the long-term need for oxygensupport, an additional examination was performed, and hypoagammaglobulinemia wasdiagnosed. This patient had one of the highest CT scores recorded , 19 out of 25. In addition to oxygen supplementation and systemic corticosteroids, the adolescent also received immunoglobulin replacement therapy. The patient recovered and was released from the hospital on the 23rd day in order to continue the treatment of the newly discovered hypogammaglobulinemia in the regional health center.
References
Strauss SR, Knight J. Influence of the Home Environment on the Development of Obesity in Children Pediatrics (1999) 103 (6): e85. Pediatrics (1999) 103 (6): e85. https://doi.org/10.1542/peds.103.6.e85.
Lorenzo C, Williams K, Hunt JK, Haffner MS. The National Cholesterol Education Program–Adult Treatment Panel III, International Diabetes Federation, and World Health Organization Definitions of the Metabolic Syndrome as Predictors of Incident Cardiovascular Disease and Diabetes. Diabetes Care 1 January 2007; 30 (1): 8–13. https://doi.org/10.2337/dc06-1414.
DeBoer. M.D. Assessing and Managing the Metabolic Syndrome in Children and Adolescents. Nutrients 2019, 11, 1788. https://doi.org/10.3390/nu11081788.
Salmenniemi U, Ruotsalainen E, Pihlajamäki J, et al. Multiple abnormalities in glucose and energy metabolism and coordinated changes in levels of adiponectin, cytokines, and adhesion molecules in subjects with metabolic syndrome. Circulation. 2004;110(25):3842-3848. doi:10.1161/01.CIR.0000150391.38660.9B.
Taher R, Sara JD, Heidari B, Toya T, Lerman LO, Lerman A. Metabolic syndrome is associated with peripheral endothelial dysfunction amongst men. Diabetes Metab Syndr Obes. 2019;12:1035-1045. doi:10.2147/DMSO. S204666.
Chen G, Wu D, Guo W, et al. Clinical and immunological features of severe and moderate coronavirus disease 2019.J Clin Invest. 2020;130(5):2620-2629. doi:10.1172/JCI137244
Huang C, Wang Y, Li X, et al. Clinical features of patients infected with 2019 novel coronavirus in Wuhan, China. Lancet. 2020;395(10223):497-506. doi:10.1016/S0140-6736(20)30183-5.
Bonaventura A, Vecchié A, Dagna L, et al. Endothelial dysfunction and immunothrombosis as key pathogenic mechanisms in COVID-19. Nat Rev Immunol. 2021;21(5):319-329. doi:10.1038/s41577-021-00536-9.
Denson JL, Gillet AS, Zu Y, et al. Metabolic Syndrome and Acute Respiratory Distress Syndrome in Hospitalized Patients With COVID-19. JAMA Netw Open. 2021;4(12):e2140568. doi:10.1001/jamanetworkopen.2021.40568.
Nogueira-de-Almeida CA, Ciampo LA, Ferraz IS, Ciampo IR, Contini AA, Ued FV. COVID-19 and obesity in childhood and adolescence: a clinical review. J Pediatr (Rio J). 2020;96:546-58.. Jornal de Pediatria [online]. 2020, v. 96. Epub 11 Nov 2020. ISSN 1678-4782. https://doi.org/10.1016/j.jped.2020.07.001.
Živković Z, et al. What is about Covid Pneumonia in Children? Covid pneumonija kod dece? Journal of the Association of Preventive Paediatrics of Serbia. Volume 7, May 2021 Number 1-2. ISSN 2466-3247. COBISS.SR-ID 219373324.
Harwood R, Yan H, Talawila Da Camara N, Smith C, Ward J, Tudur-Smith C, Linney M, Clark M, Whittaker E, Saatci D, Davis PJ, Luyt K, Draper ES, Kenny SE, Fraser LK, Viner RM. Which children and young people are at higher risk of severe disease and death after hospitalisation with SARS-CoV-2 infection in children and young people: A systematic review and individual patient meta-analysis. EClinicalMedicine. 2022 Feb;44:101287. doi:10.1016/j.eclinm.2022.101287. Epub 2022 Feb 11. PMID: 35169689; PMCID: PMC8832134.
Say D., Crawford N., McNab S., Wurzel D., Steer A., Tosif S. Post-acute COVID-19 outcomes in children with mild and asymptomatic disease. Lancet Child Adolesc Health. 2021;5(6):e22–ee3. - PMC - PubMed.
Pimenta, F.M.C.A. et al. Hypogammaglobulinemia: a diagnosis that must not be overlooked. Brazilian Journal of Medical and Biological Research.2019;(52)10. https://doi.org/10.1590/1414-431X20198926.
Yesillik S, Musabak U, Sener O, Baysan A, Ucar E, Demirel F, et al. The diagnosis of common variable immunodeficiency in adults should not be missed: a delayed diagnosis can be devastating. Allergol Immunopathol 2014; 42: 620– 622, doi: 10.1016/j.aller.2013.05.007.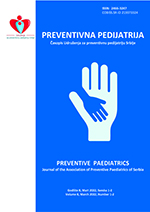 Downloads