CHARACTERISTICS OF HAND INJURIES IN CHILDREN AND PREVENTION
Keywords:
injuries, hands, prevention, children
Abstract
Introduction: Hand injuries are among the most common childhood injuries seen in emergency rooms of children's hospitals. In case of accidents, the hand is the part of the body that is most often thrown out to reduce the consequences, which leads to a wide range of injuries to both soft tissues and chondro-skeletal structures.
Aim of the study: The aim was to point out the characteristics of hand injuries, and to point out the necessity of developing programs for their prevention.
Material and methods: This retrospective study included patients aged 17 years and younger, a total of 305 of them. We analyzed: gender distribution, age of patients, type of injury, types of interventions, dominant side of injuries, involvement of fingers and their number in hand injuries, prevalence of flexor or extensor tendon injuries, prevalence of amputations or semi-amputations, treatment with osteointethic material and immobilization, as well as their percentage.
Results: Out of a total of 305 patients, 240 were boys and 65 girls. The tendon section stands out as the most common injury. The most common types of interventions were tenoraphy with immobilization. The children injured their right hand a little more often. Most of them had injuries to one finger, with the highest frequency of V and III fingers. There was a significantly higher prevalence of flexor tendon injuries compared to extensor tendons. Semi-amputations were more common than complete amputations and fingertip amputations.
Conclusion: Hand injuries are a very common cause of morbidity in the pediatric population, and that there is a wide range of them. As most accidents are of the accidental type, adequate preventive measures could reduce their incidence, and the focus should be on developing an adequate prevention program.
References
Liu EH, Alqahtani S, Alsaaran RN, et al. A prospective study of pediatric hand fractures and review of the literature. Pediatr Emerg Care. 2014;30:299–304. PMID: 24759492. DOI: https://doi.org/10.1097/pec.0000000000000118.
Sivit A, Dupont E, Sivit C. Pediatric hand injuries: essentials you need to know. Emerg Radiol. 2014;21(2 :197-206. DOI: https://doi.org/10.1007/s10140-013-1158-0.
Worlock PH, Stower MJ. The incidence and pattern of hand fractures in children. J Hand Surg Br. 1986;11(2 :198–200. PMID: 3734557. DOI: https://doi.org/10.1016/0266-7681(86 90259-7.
Wahba G, Cheung K. Pediatric hand injuries. Can Fam Physician 2018;64(11 :803-810. PMID: 30429174. PMCID: http://www.ncbi.nlm.nih.gov/pmc/articles/pmc6234925/.
Gellman H. Fingertip-nail bed injuries in children: current concepts and controversies of treatment. J craniofac Surg. 2009;20(4):1033–1035. PMID: 19553859. DOI: https://doi.org/10.1097/scs.0b013e3181abb1b5.
Al-Qattan MM. Extra-articular transverse fractures of the base of the distal phalanx (Seymour's fracture) in children and adults. J Hand Surg Br. 2001;26(3):201–206. PMID: 11386767. DOI: https://doi.org/10.1054/jhsb.2000.0549.
Borne A, Porter A, Recicar J, Maxson T, Montgomery C. Pediatric traumatic amputations in the United States: a 5-year review. J Pediatr Orthop. 2017;37(2):104–107. PMID: 26633819. DOI: https://doi.org/10.1097/bpo.0000000000000693.
Liao J, Alphonsus C. Pediatric hand and wrist fractures. Clin Plast Surg. 2019;46(3):425-436. PMID 31103087: DOI: https://doi.org/10.1016/j.cps.2019.02.012.
Dwyer CL, Ramirez RN, Lubahn JD. A brief review of extensor tendon injuries specific to the pediatric patient. Hand (N Y) 2015;10(1):23–27. PMID: 25767417. DOI: https://doi.org/10.1007/s11552-014-9706-y.
Armstrong MB, Adeogun O. Tendon injuries in the pediatric hand. J Craniofac Surg. 2009;20(4):1005–1010. PMID: 19568188. DOI: https://doi.org/10.1097/scs.0b013e3181abb141.
Lubahn J, Ramirez R, Metz R, Emerson P. Hand dislocations. In: Abzug JM, Kozin SH, Zlotolow DA, editors. The pediatric upper extremity. New York, NY: Springer; 2015. pp. 1005–1028. PMID: 30429174. PMCID: PMC6234925.
Kemp AM, Jones S, Lawson Z, Maguire SA. Patterns of burns and scalds in children. Arch Dis Child. 2014;99(4):316–321. PMID: 24492796. DOI: https://doi.org/10.1136/archdischild-2013-304991.
Choi M, Armstrong MB, Panthaki ZJ. Pediatric hand burns: thermal, electrical, chemical. J Craniofac Surg. 2009;20(4):1045–1048. PMID: 19634213. DOI: https://doi.org/10.1097/scs.0b013e3181abb25f.
Shah SS, Rochette LM, Smith GA. Epidemiology of pediatric hand injuries presenting to United States emergency departments, 1990 to 2009. J Trauma Acute Care Surg 2012;72:1688–1694. PMID: 22695442. DOI: https://doi.org/10.1097/ta.0b013e31824a4c5b.
Sing O, Gupta S, Azhar Ud Din Darkohan M, Ahmad S, Singh Charak S et Sen A. Epidemiology od Pediatric Musculoskeletal Injuries and Their Pattern in a Tertiary Care Center of North India. Indian J Orthop 2018:52(5);449-453. PMID: 30237601. PMCID: PMC6142803.
Sahin F, Yucel SD, Zilmaz F, Ercalik C, Esit N, Kuran B. Characetristics of pediatric hand injuries followed up in a hand rehabilitation unit. Ulus Travma Acil Cerrahi Derg. 2008:14(2);139-144. PMID: 18523905.
Kulshrestha R, Gaind BN, Talukdar B, Chawla D. Trauma in childhood – Past and future. Indian J Pediatr. 1983;50:247–251. PMID: 6668028. DOI: https://doi.org/10.1007 /bf02752757.
Mahabir RC, Kazemi AR, Cannon WG, Courtemanche DJ. Pediatric hand fractures: A review. Pediatr. Emerg. Care. 2001;17:153–156. PMID: 11437136. DOI: https://doi.org/10.1097/00006565-200106000-00001.
Rockwell W, Butlker P et Byrne A. Extensor tendon. Anatomy, injury and reconstruction. Plastic and reconstructive Surgery 2000; 106(7):1592-1604. PMID: 11129192. DOI: https://doi.org/10.1097/00006534-200012000-00024.
Jeon BJ, Lee J, Roh SJ, Kim JS, Lee DC, Lee KJ. Analysis of 344 hand injuries in Pediatric popoulation. Arch Plast Surg 2016; 43(1): 71-76. PMID: 26848449. DOI: https://doi.org/10.5999/aps.2016.43.1.71.
Capo J, Hastings T. Metacarpal and phalangeal fractures in athletes. Clinical Sports Medicine 1998;17(3):491 – 511. PMID: 9700416. DOI: https://doi.org/10.1016/s0278-5919(05)70098-3.
Ljungberg E, Rosberg HE, Dahlin LB. Hand injuries in young childrene. Journal of Hand Surgery 2003;28(4):376-380. PMID: 12849952. DOI: https://doi.org/10.1016/s0266-7681(03)00101-3.
Yorlets R, Busa K, Eberlin K, Ali Raisolsadat M, Bae D, Waters P, Labow B et Taghinia A. Fingertip Injuries in Children: Epidemiology, Financial burden, and Implications for Prevention. Hand 2017;12(4):342-347. PMID: 28644934.
Vadivelu R, Dias JJ, Burke FD et Stanton J. Hand Injuries in Children A Prospective Study. Pediatr Orthop 2006; 26(1):34-35. PMID: 16439897. DOI: https://doi.org/10.1097/01.bpo.0000189970.37037.59.
Marjanović Z, Zečević M, Živanović D, Đerić D, Bojović N. Hand injuries in children and adolescents. Srp Arh Celok Lek 2021;149(5-6):311-315. DOI: https://doi.org/10.2298/SARH181121016M.
Doraiswamy NV. Childhood finger injuries and safeguards. Injury Prevention 1999;5:298-300. PMID: 10628922. DOI: https://doi.org/10.1136/ip.5.4.298.
Kendrick D, Ablewhite J, Achana F, Benford P, Clacy R, Coffey F, et al. Keeping Children Safe: a multicentre programme of research to increase the evidence base for preventing unintentional injuries in the home in the under-fives. Southampton (UK): NIHR Journals Library; 2017 Jul. Programme Grants for Applied Research. PMID: 28771290. DOI: https://doi.org/10.3310/pgfar05140.
Gopfert A, Van Hove M, Emond A, Mytton J. Prevention of sports injuries in children at school: a systematic review of policies. BMJ Open Sport Exerc Med 2018;4(1):e000346. PMID: 29955375. DOI: https://doi.org/10.1136/bmjsem-2018-000346.
Mace S, gerardi M, Dietrich A, Knazik S, Mulligan-Smith D, Sweeney R, Warden C. Injury Prevention and Control in Children. Annals of emergeny medicine 2001;38(4):406-409. PMID: 11574797. DOI: https://doi.org/10.1067/mem.2001.115882.
Bass J, Christoffel K, Widome M, et al. Childhood injury prevention counseling in primarycare settings: a critical review of the literature. Pediatrics. 1993;92:544-550. PMID: 8414825.
Chen J, Kresnow M, Simon TR, Dellinger A. Injury-Prevention Counseling and Behavior Among US Children: Results From the Second Injury Control and Risk Survey. Pediatrics 2007;119(4) :958-964. PMID: 17403833. DOI: https://doi.org/10.1542/peds.2006-1605.
Omaki E, Rizzutti N, Shield W, Zhu W, Zhu J, McDonald E, Stevens M, Gielen A. A systematic review of technology-based interventions for unintentional injury prevention education and behaviour change. Inj Prev 2016;0:1-9. PMID: 26787740. DOI: https://doi.org/10.1136/injuryprev-2015-041740.
Ljungberg EM, Carlsson KS, Dahlin LB. Cost per case or total cost? The potential of prevention of hand injuries in young children - retrospective and prospective studies.BMC Pediatr. 2008;7(8):28. PMID: 18606018. DOI: https://doi.org/10.1186/1471-2431-8-28.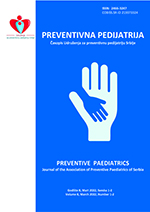 Downloads
Section
Original Articles